The idea proposed by the REMODEL project is to create an incremental skill-based robot knowledge that, with few iterations of Teaching by Demonstration, allows the robot to operate with less supervision, in such a way that the worker can focus on other more complex tasks increasing the productivity. For this reason we must develop equipment suitable for robot use.
ELVEZ in collaboration with TAU modified manual taping gun and prepared it for robot use. Taping gun is now designed for pneumatic motors for triggering the spot taping process.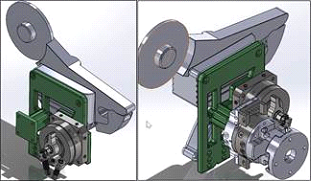 Also the whole process of wire assembly was analyzed and sequence for robot assembly was defined.
 Strategy:
Insert the connector side in the first guide

Insert the cable in the separation guide

Separate the lowest branch moving the rest to the non-used cable guides

Guide the separated branch through all its path

Move the remaining branches to the separation guide and start a new separation of the new lowest branch
To do all the mentioned actions additional equipment is needed. For this reason we use depth camera perpendicular to the cables to determine the grasping point for the separation.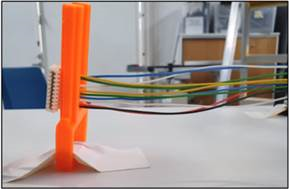 In the future, with machine vision we will
control the cable tension
control that cables are aligned with the guide and grouped before inserting
slide finger following the cable direction
verify that the cable routing was correct and the cables did not go outside of guides
Written by ELVEZ